The annual conference of the Maryland Writers' Association, entitled "From Brain to Bookshelf" was held on March 29-31, 2019 at the BWI Airport Marriott. I hadn't planned on attending, and wouldn't have except for a fortuitous meeting with the president of the association, Eileen McIntire.
On the weekend before my birthday, Ellen and I traveled to Silver Spring for a Sisters in Crime event featuring a former firefighter who spoke about fires and forensic evidence about them. It was very interesting. Ellen was seated next to a woman whose face was familiar, and when she introduced herself as "Eileen" I knew she was Eileen McIntire, president of the association. As the program was ending, she turned to me and asked my name again, saying that it sounded familiar. Then the lightbulb went off. "Oh, you're in the anthology, but we couldn't get ahold of you." "What?" I asked. "Your story was chosen for the 30th Anniversary Anthology, but we never received a bio or picture." And since each author included in the anthology would be recognized at the conference, I decided to attend: I'm glad I did.
The Conference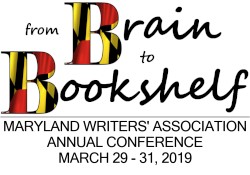 The conference consisted of writers from throughout the state, and they were not all fiction writers: some wrote historical non-fiction, some wrote textbooks, and others were technical writers, all coming together to learn more about writing, Having said that, I would say that the majority of people wrote fiction and that's how the sessions and panels were focused.
Panels and Presentations
The conference featured panels on a variety of writing-related topics, chief among them finding agents and editors for our work.
And while it had a very different feel from Creatures Crimes and Creativity Conference, I still found it quite valuable and enjoyable.
I attended sessions entitled "Characters are the Story" with Tracee Garner, "Humor in Writing" with Suzi Galletti, and a number of other sessions on craft They were all very informative and gave me new tools I can apply to my writing.
Pitches
Another important feature of the conference was the opportunity to receive feedback from agents via critiques and to pitch one's work to the agents, about fifteen of whom were in attendance. I pitched Diaspora to three agents, all of whom thought it had merit. One agent read the first chapter of the book and made several corrections and suggestions about dialogue tags and formatting. Another asked me to send her the first three chapters after I returned home. I'm making the suggested edits to the entire manuscript based on the one agent's suggestions so that the first three chapters are better constructed and a bit tighter, then sending it on. While pitching my book to the agents was scary at first, I found the interactions with the agents positive and non-threatening, and wonder if the stress of pitching is something writer's project on the experience rather than because agents are or seem to be difficult to work with.
Awards
Well, not award per se, but as I mentioned here and in my email entitled "I'm In!" the anthology was the contest for the 2018-2019 cycle, as opposed to their usual contest for novels. Members were asked to submit their short stories, memoirs, poetry and other pieces to MWA for consideration, and I was one of the sixty-four who did so. Thirty of us have our work in the anthology. About nine of us were in attendance at the conference, and we came up to the front to be acknowledged by the membership. It was sweet, and what a great first conference!