Twin Worlds
Sr. Captain Tucker McLeod of the Star Alliance has concluded his tour of duty on the Endeavor, his first Andromeda Class command. He is in line to become Fleet Captain of the Quadrant flagship Valiant, but longs to serve the Alliance instead by joining the diplomatic corps.
While McLeod's request to join the diplomatic corps is rebuffed by the review board, he is given the opportunity to serve as an observer for negotiations for Central Federation and Star Alliance membership for the twin worlds of Hemod and Herai, where he works again with Raina Wolfe, a Su-Captain from the Central Federation with whom he has served on several occasions. During a cooling off period of the negotiations, McLeod and Wolfe uncover a conspiracy designed to scuttle the negotiations. Can they uproot the conspiracy and save the negotiations before the twin worlds explode?
Twin Worlds is available now!  You buy it on Amazon both as an ebook or paperback.  Click here to find Twin Worlds on other ebook platforms.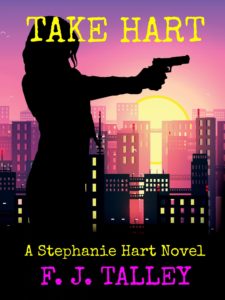 Take Hart
Stephanie "Steve" Hart is a probationary police officer in Port Angel.  Hart is a former platoon Sgt. and Military Police Officer who is holding in a secret from her military past.   She is paired for her final probationary rotation with Danny Novak, a young officer born and raised in the city,  and Danny helps her learn the ins and outs of the neighborhood.  Hart is hardly inexperienced, and she shows time and time again her significant abilities as a patrol officer and partner.  Both Hart and Novak grow as officers through the relationship, and Hart's instincts along with Novak's personal connections help them uncover connections between a major drug dealer and people in their sector.  Will they make the final connections before the beginning of a new and bloody drug war?
Take Hart is available for sale now!  You buy it on Amazon both as an eBook or paperback!  Click here to find Take Hart on other platforms.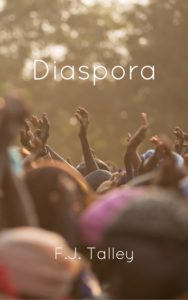 Diaspora
When the deposed leader of Matombo, General Hernan Saavedra, decides to visit Port Angel because of its large Matomban population, the general and his staff hire Mitchell Street, former cop and current bodyguard and private investigator to keep him safe.  The general is not universally loved among Matombans.  Street has enough problems trying to work with the police and State Department preparing for the general's visit, but he still has his own demons to wrestle with.
Someone has to figure out who is trying to kill the general, and that someone has to determine who among all the general's enemies in the Matomban diaspora has to be his target.  Can Street find that target in time?
Diaspora is slated for publication in 2018!